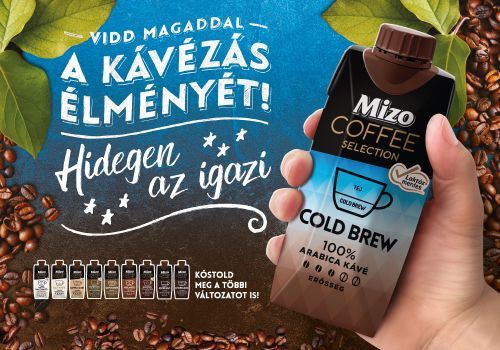 The Mizo Coffee Selection product family was launched in 2017. Celebrating its 3rd birthday this year, the portfolio continues to expand. In recent years we've worked hard to make our popular coffee drinks available to most coffee enthusiasts and take the coffee experience with everyone.
Three years ago, we launched six Mizo Coffee Selections:
MIZO ESPRESSO - Real, classic coffee, made from 100% arabica coffee.
MIZO LACTOSE FREE CAPPUCCINO & ndash; Which & nbsp; has become one of the most popular lactose-free coffee specialties today.
MIZO KAPUCINER & ndash; Which evokes the atmosphere of Viennese coffees.
MIZO MELANGE & ndash; Inspired by the original Viennese roasted melange (Wiener Melange) coffee.
MIZO AMERICANO - Made for the pleasures of modern coffee.
MIZO FLAT WHITE & ndash; For lovers of specialties.
After a year, we have expanded our portfolio with 3 new lactose-free coffee drinks, taking into account market needs, such as:
MIZO LATTE MACCHIATO - A sweetened, decaffeinated latte for all those who are light I would like to pamper myself with a coffee specialty at any time of the day.
MIZO DOPPIO - Mizo Doppio which is also lactose free, made with a sweetener and is a real starter.
MIZO ESPRESSO NO SUGAR - A classic Italian coffee for lovers of sugar-free pleasures.
Our mission and mission is to further promote coffee culture and take the new wave forward with the latest trends. In addition to the 9 members of the Mizo Coffee Selection product family we are expanding our portfolio with a special new member.
The most recent member of the Mizo Coffee Selection is Cold Brew, which is a real coffee speciality.

What makes it so special? It is because this is our first coffee with 100% arabica coffee which is not brewed with traditional technology.

During cold brew making the coffee is soaked in cold water for 10-12 hours and then it is filtered. Cold water brings out completely different aromas and softer flavors from coffee beans, keeping all valuable properties inside while caffeine's strength also dominates. To ensure that everyone may enjoy the coffee experience anywhere, we make Cold Brew with lactose-free Mizo milk.
It is best if served chilled!

www.mizo.hu/coffeeselection