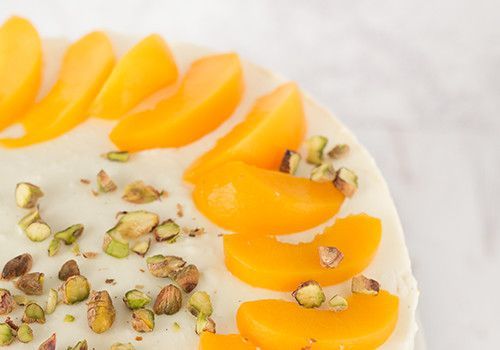 Yogurt curd cake
Ingredients
For round, 22-24 cm cake tins with staples
---
3
egg 3 tablespoons
water 6 tablespoons
sugar 5 tablespoons
flour 1 tablespoon
cocoa 1/2 pack
baking powder
for the filling:
for decoration:
to the top of the sponge cake:
to lubricate the mold:
---
For the sponge cake, beat the eggs with the sugar and water. Gently mix in the flour, mixed with cocoa and baking powder. Pour the mix into the greased-floured cake tin and bake at medium heat for 15-20 minutes, then at low heat for another 20 minutes. (Needle test!) Let it cool and spread peach jam on the the top.
Slice the peaches and catch the juice. Mix the yogurt with sugar, cottage cheese and vanilla sugar. Boil the peach juice with the gelatin, when it has cooled to lukewarm mix it with the filling. Beat 3 dl of cream into a hard foam and mix it with the cream. Spoon a little filling onto the sponge cake covered with jam, arrange the sliced peaches on the top in a circle, then pour over the remaining cream. Place in the refrigerator to freeze. Before serving, decorate with 2 dl of whipped cream.