Mascarpone chocolate ice cream with salty caramel sauce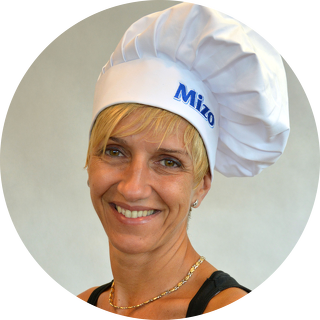 Ingredients
For 4 persons
---
to the dressing
---
Beat the egg yolks with the sugar with a whisk until creamy. Heat the milk in a pan with the cream and add the cocoa powder and chocolate before it starts boiling. Stir until the chocolate melts. Pour a ladleful of the mixture to the egg yolk foam, mix thoroughly and quickly, then pour the mixture into the pan. Boil the ice cream base, stirring constantly for about 5 minutes, to make it thicker. After 5 minutes remove it from the heat and gently fold the mascarpone into it. Pour the mass into a flat plastic bowl, let it cool and then put it in the freezer. Stir thoroughly every hour with a stick mixer (repeat five times).
For the sauce, start to heat the sugar in a high-walled pan over a low flame, but do not stir. Once it is completely liquid and has a nice brown color, add the diced butter and salt. When it also melts remove the pan from the heat. Heat the cream, mix it to the sugar mixture and mix well.
Serve the ice cream with the sauce.
Tip: if any caramel sauce remains, you may use it for a week if refrigerated. It can be consumed on pancakes or with another serving of ice cream.