New Mizo salty caramel milk
Mizo is the market leader in the flavoured beverage category, that is why it is important for us to surprise consumers with novelties in addition to classic flavours such as cocoa, bird milk and latte. For the fall and winter seasons, we made salty caramel milk to make the mornings in frosty months more special. With a pinch of salt, the caramel will not only taste sweet, but it will have a more intense flavour, just like when we bake and cook, we hide a little salt in almost every recipe to bring out and highlight the flavour of the food.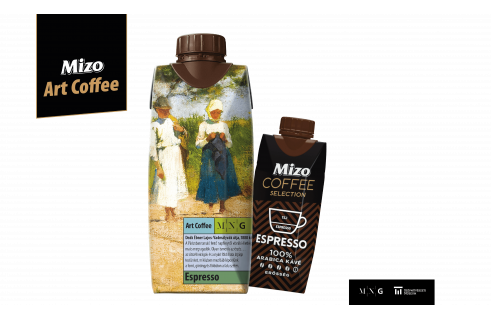 Mizo Art Coffee - Take the art experience with you!
The history of Hungarian coffee houses and coffee culture itself dates back several centuries. As in the past, countless writers, poets and painters choose today the inspiring environment of cafes, as the monotonous roar of coffee machines creates a sort of silence in the racing world from which they can draw inspiration while drinking a cup of coffee. its unique culture also inspired Sole-Mizo Zrt., together with the Museum of Fine Arts and the Hungarian National Gallery, to further strengthen the close bond between coffee and art through unique product packaging. We created of a limited edition Mizo Art Coffee collection so that anyone can take the experience of art with them anywhere. Our goal is to arouse our consumers' interest in art with this exclusive series.
Visit our gallery
New lavender-coconut!
The flavours of summer in a cooling drink. Free of lactose and added sugar, all in environmentally conscious packaging! Mizo is the market leader in the aromatics category. This summer, we expanded our 450 ml portfolio with a new flavour. The new lavender coconut is our real youthful, trend-following novelty, which, in addition to being lactose-free, contains 0% added sugar. Like the packaging of Mizo UHT milks, Mizo 450 ml flavoured drinks are packaged in more environmentally friendly, sustainable cartons. The cardboard box is certified by FSC ™, with the purchase of which you also contribute to the protection of the world's forests for future generations. 89% of the raw material for packaging comes from renewable sources.
Environmentally responsible and conscious choice
More environmentally friendly, more natural packaging from Mizo
The latest member of the Mizo Coffee Selection, Cold Brew, a real coffee curiosity has arrived.
Visit our products
Living a full life with lactose intolerance
Discover Mizo's ever-expanding lactose-free product line. You don't even have to give up consuming dairy products if someone in your family is lactose sensitive.
Lactose free products