BOCI (MOO-COW) COOKIE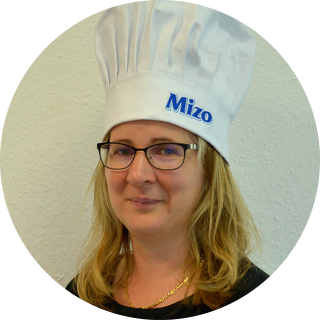 ---
10 tablespoons of
flour 5 tablespoons of
strudel flour 11 tablespoons of
sugar 11 tablespoons of
vegetable oil 1
egg 1 teaspoon of
baking powder 2 tablespoons of
cocoa powder 2,5 dl
Mizo milk (2,8%)
FOR THE MOO-COW SPOTS:
25 dkg
Mizo cottage cheese 1
grated zest of lemon 5 tablespoons of
sugar 1 package
vanilla sugar (10g) 1 tablespoon of
semolina 1
egg
---
Mix the ingredients for the dough - add the milk slowly to make it lump-free.
Knead the ingredients for the spots until creamy. Spread the dough into a baking pan lined with baking paper, then add the cottage cheese mixture in small portions, using a coffee spoon. Bake in a preheated oven at 180 degrees for about 25 minutes. Let it rest in the pan for a while, then cut into slices and serve.