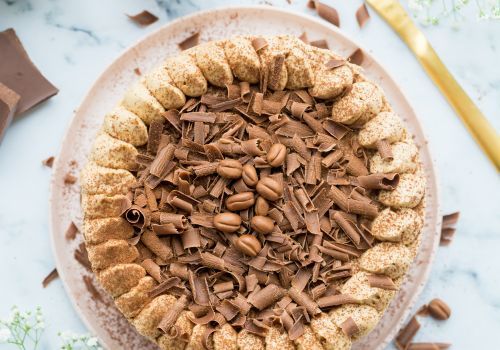 Coffee cake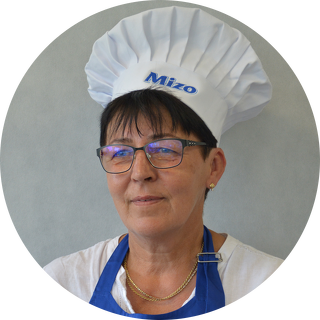 Ingredients
For a 20 cm staple cake tin
---
8 tablespoons
egg 10 dkg
cold water 1 db
powdered sugar 15 dkg
lemon zest 1/2 pack (6 g)
flour 1 package (44 g)
baking powder
for the cream:
1 + 2 tablespoons
vanilla flavored custard powder 1 box
sugar 20 dkg
Mizo Coffee Selection drink (330 ml, any taste) to taste
Mizo teavaj
for decoration:
to taste
white marzipan to taste
cocoa powder 1 package (270 g)
chocolate chips
---
For the sponge cake, separate the eggs whites and egg yolks. Mix the yolk with the water, powdered sugar and lemon zest. Sift in the baking powdered flour, mix them well, then fold in the egg whites beaten into a hard foam with gentle movements. Pour the dough into a cake tin lined with baking paper at the bottom, and bake ready at 180 degrees. (Needle test!) Remove the cake tin while it is still hot. Turn the sponge cake upside down, covered with a kitchen towel and let it cool, then cut it into two sheets.
For the cream, mix the pudding powder with 1 tablespoon of sugar and the coffee drink, then boil and cool it. Beat the soft butter with 2 tablespoons of sugar until foamy, then add the pudding in small amounts. Halve the cream, fill the cake with one half and coat the outside of the cake with the other.
For the decoration, knead the marzipan with some cocoa powder to have the same shade of color as the cream. Roll out to the thickness of a pencil, cut into 1 cm pieces, shape them into balls, then into a shape similar to coffee beans, and cut a line in the middle with a knife. Sprinkle the cake with chocolate chips, decorate with marzipan coffee beans, then sprinkle with cocoa powder.
Tip:
If you want a stronger coffee flavor, you may enrich the cream with a few teaspoons of freshly brewed black coffee.