Cottage cheese and coffee cupcake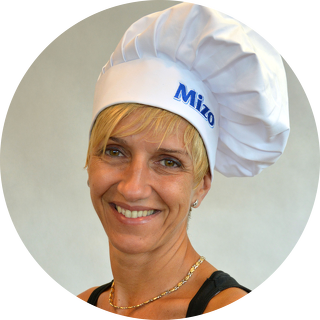 Ingredients
Measured with a 2,5 dl mug for a 30x22 cm baking tray
---
2 mugs
flour 1 mug
sugar 1 package
baking powder (12 g) 1 package
vanilla sugar (10 g) 2 tablespoons
unsweetened cocoa powder 2.5 dl
Mizo Coffee Selection Espresso coffee 1 dl
oil 2 pcs
egg
for cottage cheese cream:
on the top:
to taste
grated dark chocolate
---
Mix the ingredients of the dough, with the exception of the cocoa powder, in the order of the listing. Pour half of the dough in a baking tray lined with parchment paper. Stir in the cocoa powder into the remaining dough and pour it into the baking tray as well. Stir in with a fork or meatpin to make the brown and white parts to have a look like marble. Bake at 180 degrees C for approx. 35 minutes. (Needle test!)
For the cottage cheese cream, cook the pudding powder with the sugar and milk thick. Cool until lukewarm, stir in the butter. Stir until lump-free, cool completely, then add the smashed cottage cheese and the rum. Whisk until creamy and pour over the cooled sponge cake. Sprinkle grated chocolate on top and serve sliced .