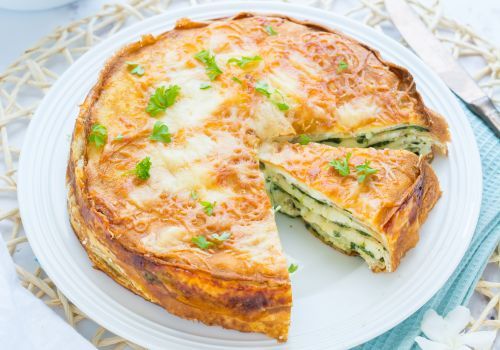 Layered pancakes with spinach-ham-sour cream-cheese
---
36 dkg
flour 7.2 dl
Mizo milk 2 pcs
egg to taste
salt a little
oil
for the filling:
1 tablespoon
oil 1 tablespoon
flour 2 gerezd
garlic few
Mizo milk to taste
sugar to taste
salt 30 dkg
spinach (can also be frozen)
for layering:
---
Mix the flour, milk, eggs with a hand mixer, add some salt, then fry the pancakes in a lightly oiled pan.
Make a light color roux from the oil and flour. Add the peeled, crushed garlic, pour in a little milk then add the spinach. Season with a little sugar and salt, then cook until it thickens.
Lay the pancakes in a staple cake tin in this order: pancakes – spinach – pancakes – sour cream – grated cheese – pancakes – ham. Continue to add layers until you run out of the ingredients. Sprinkle the top with grated cheese and bake ready in a preheated 180 degree C oven.