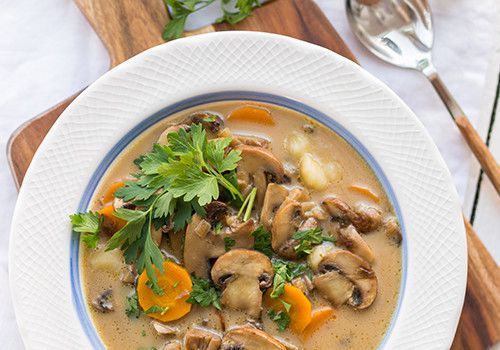 Mushroom soup with cream
Ingredients
For 4 persons
---
for the soup pad
1
egg 1 pinch
salt to taste
flour
for serving
---
Cut the cleaned mushrooms into strips, cut the turnip and carrot into thin rings, chop the onions and sprinkle with freshly ground pepper. Melt the butter over low heat, add the vegetables and simmer until soft, then fry them in the butter. Sprinkle with flour and fry slightly while constantly stirring. Pour some water into the pot while constantly stirring– take care to make it perfectly smooth–, then add the seasoning, the cream and bring it to a boil. If necessary, add more salt.
For the soup filling, beat the eggs in a bowl, add salt and enough flour to have a mass slightly softer than dumpling dough. Cut pieces of the dough with a teaspoon into the boiling soup and cook until the dumplings come to the surface of the soup.
Before serving sprinkle with freshly chopped parsley.